About the host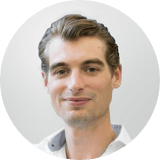 Roel de Vries, Enterprise Innovation Consultant, HYPE Innovation
Roel has lived and breathed innovation management for the most significant part of his career. It's where his heart lies. Roel founded, designed and led the global collaborative innovation initiative Spark at Liberty Global for seven years. Roel studied at the renowned Dutch University Nyenrode where he received his Master's degree in Business Administration and the Entrepreneur Award for best startup. Now – as Innovation Management Consultant - he wants to apply this knowledge by helping other organizations in their innovation efforts.
Connect with Roel on LinkedIn:

New to the "10 Rules of Innovation Management" series?
Every other week, we share best practices about online innovation management over on HYPE's Innovation Blog. Following each blog post, innovation management expert and "10 Rules" author Roel de Vries answer your questions in these "coffee break" webinars! Sign up for the series here to receive all the content you missed so far.